Operating ships will produce large amount of solid rubbish like paper, rags, plastics as well as liquid wastes like oil sludge and invalidated lubricating oil. All these wastes will cause severe damages to ocean environment if discarded into the sea. Marine incinerators can thoroughly burn both solid and liquid wastes.
Incineration of liquid and solid waste is consider to be an environmental friendly way of waste management. On board incineration with local management of sludge oil and solid waste is highly appreciated and recommended by the International Marine Organization (IMO) and all the class societies.
All models are running at a high temperature to enable high capacity for burning both liquid and solid waste, and in spite of this, have small dimensions.
Allow us to give you a guided tour on this aspect.
What can be incinerated?
According to the IMO regulations the following solid and liquid waste can be burned in an IMO certified shipboard incinerator:
· Plastic, cardboard, wood
· Rubber, cloth, oily rags, lub oil filters
· Diesel engine scavenge scraping
· Paint scraping
· Food waste, etc.
· Sludge oil, waste lubrication oil
· Hospital waste, female hygienic binds
· Destruction of contaminated water
Material, which contains more than traces of HEAVY METAL and of refined petroleum products containing halogen compounds is prohibited to be incinerated. Light bulbs contain heavy metal and are prohibiting incinerating. Under shipboard operational waste the following materials have a density placing them in the category of HEAVY METAL:
· Mercury
· Lead
· Nickel
· Vanadium
· Zinc
IMO Annex VI regulation 16 prohibits incineration on ship of certain products, such as contaminated packaging materials and polychlorinated biphenyls (PCBs).
Criteria for selection of proper sized incinerator:
When choosing your incinerator model, several factors should be consider:
1. The intention of the incinerator
Incineration of sludge oil, solid waste or both.
2. Requested capacity for burning of sludge oil
Recommend to choose an incinerator with the capacity to burn approx 1% of the ship's daily bunker consumption, incinerated within 8-12 hours of operation. The equivalent sludge tank capacity should correspond to 2% of the daily bunker consumption.
3. Requested capacity for burning of solid waste
Estimated amount of solid waste onboard a vessel is approx. 2 kg per person, for cruise liners; 3 kg per person.
Recommendations for installation of Marine Incinerator system
An incinerator consists of combustion chamber with burner unit, sludge burning equipment and electric control panel. It is assembled in one complete unit resting on 4 or 6 feet or pads. The unit is to be welded or bolted firmly to the deck, platform or the ground.
Certificates
Our incinerators are certified in compliance with IMO Resolution MEPC. 76(40) adopted on 25. September 1997, «Standard Specifications of Shipboard Incinerators» with amendments 98/85/EC, 2001/53/EC, 2002/75/EC, and IMO MARPOL ANNEX VI adopted 26. September 1997.
Through DNV, all models are continuously certified in accordance with MED (European Marine Equipment Directive). We are able and ready to pursue any special needs for certification for our clients, through our extended contacts with the classification societies.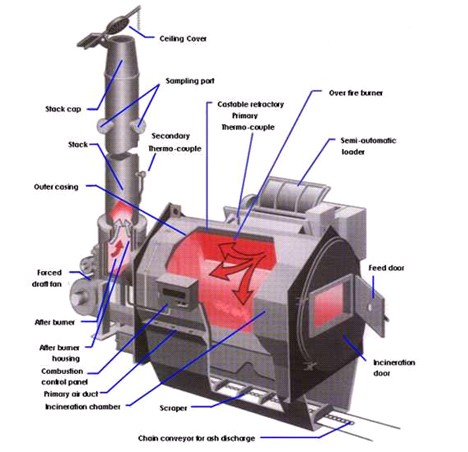 A sludge burner is placed in the incinerator to burn and dispose sewage, sludge and waste oil. An auxiliary oil burner is also fitted to ignite the refuse. Automatic controls provided for the system secure the igniter when the refuse starts burning without the need of the igniter. Combustion air is supplied with the help of forced draught fan.
A loading door, pneumatically operated, is provided to load the refuse. An interlock is also provided with burner and forced draught fan, which trips when the loading door is in open condition as part of the safety.
Solid waste is fed from the loading door and the incineration process starts after closing the door. Liquid waste is fed into the system when the refractory of the incinerator becomes hot.
After the completion of the incineration process, the incinerator is allowed to cool down and residue like ash and the non combustibles are removed by pulling the ash slide door. The rotating arm scrapes off the entire solid residue in the ash box which can be easily disposed.
During incineration it is important to control the exhaust temperature, which should not be very high or too low. High temperature could lead to melting of metal and can cause damage to the machinery, whereas too low temperature will not be able to burn the residue and sterilize and remove odor from the residue.
This temperature control can be achieved by introducing cold-diluted air in the exhaust stream at the point which is as close to incinerator discharge.
Looking for ideal Marine Multifunction Incinerator Manufacturer & supplier ? We have a wide selection at great prices to help you get creative. All the
Marine Waste Incinerators
are quality guaranteed. We are China Origin Factory of Marine Dual Function Incinerator. If you have any question, please feel free to contact us.
Product Categories : Marine Equipments > Marine Incinerator