A composite hose as a cargo transfer hose is commonly used to transfer ship to shore media such as chemicals and oil products. Most of cargo operations take place between a ship and a land-based terminal. Nevertheless it sometime can be useful to transfer cargo from one ship to another in open sea and this is called a ship-to-ship operation.
Our composite hoses can be used for the following applications:
-. Chemical services: from light up to hazardous duties
-. Cryogenic services: LNG & LPG
-. Hydrocarbons: diesel, petrol and oils
-. Vapor recovery
Above mentioned hoses can be used in both onshore and offshore applications. For example tank, railcar and in-plant but also ship and barge (un)loading services.
Basic required parameters to select a cargo hose:
- Medium:
- Working pressure: 1.0 to 4.0 Mpa,
- Working temperature:-25°Ca130°C
- Nominal diameter (DN):
- Total length:
- Fitting end #1 (Fixed flange)
- Fitting end #2 (float flange)
- Material(s) fittings (Galvanized steel material or Stainless Steel)
Principal parameters:
INNER DIAMETER
BENDING RADIUS
MAX LENGHTE
WEIGHT
WORKING PRESSURE
mm
inch
mm±10
inch
m±0.15
inch
Kg/m±1
lbs/Ft
Mpa
bar
38
1.5″
280
9.2
12
39.37
2.6
3.87
1.0-4.0
10-40
50
2″
310
10.2
12
39.37
3.5
5.21
65
2.5″
375
12.3
12
39.37
4.5
6.7
80
3″
400
13.1
12
39.37
6
8.93
100
4″
450
14.8
12
39.37
8
11.9
150
6″
560
18.4
15
49.2
12
18.9
200
8″
720
23.6
12
39.37
18
26.8
1.0- 2.5
10-25
250
10″
880
28.9
10
32.81
22
32.7
300
12″
1025
33.6
10
32.81
26
38.7
Composite Hose Stractura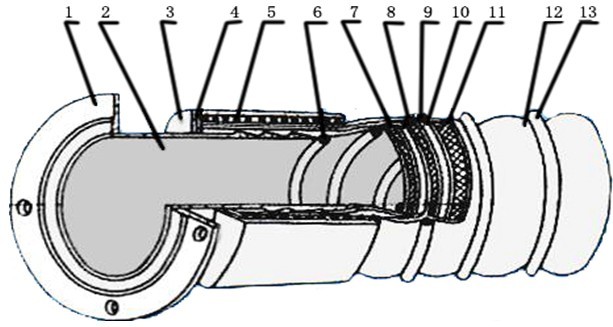 1. Flange(cs)
2. Flange connection(cs)
3. Hydraulic closed jachet (cs)
4. Air proof rubber (NBR)
5. Snap-close metal wire (brass/aluminum)
6. Inner-sheath steel wire
7. Polypropylene fabric/polester fabric
8. Fiberglas (some standard)
9. PTFE
10. Airproof layer(polypropylene)
11. Polypropylene fabric / polyester fabric
12. PVC
13. Outer-sheath steel wire(cs)